Sermon Audio
All aboard…the sin express
Heavenly Father, we come tonight to confess our sins, have the ashen Cross inscribed on our forehead as a reminder of our returning to dust, but more importantly to receive the forgiveness of sins from You. For it is through the Cross of Jesus Christ we receive the greatest gift of grace. And our response of "Amen" is a prayerful reminder of God's fulfillment of the plan of salvation through Jesus Christ. May we not only be reminded of this, but empowered to claim the Cross of Christ that sets all of mankind free, but especially all of us gathered here on this Ash Wednesday night at Emmanuel. AMEN.
If one were to hear, "All Aboard", the first thought for travelers would be of a train. And this is correct. For tonight, on Ash Wednesday we embark upon a pilgrimage, not with a destination in mind determined by railroad tracks, but a journey of exploration about our salvation. This journey unlike some has a guide with clear and unmistakable meaning. Our guide is not a person, but simply a piece of jewelry.
The jewelry for our journey is not made with precious metals of silver or gold. It is does not shimmer in the sunlight. It is simply a modest cord of rope with a few beads and knots. The jewelry is simply a bracelet that tells a story. It is a story we will explore on Wednesday night for the weeks of Lent that tells the story of salvation. Not just any salvation, but salvation offered to each of us by and through Jesus Christ.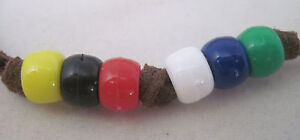 The salvation bracelet tells the simple, but complete story of salvation that God offers us through Jesus Christ and the bracelet and beads connection not only to scripture, but how the Story of Salvation comes full circle like the bracelet. During the coming weeks we will learn about other colored beads and their significance, the knots used to tie the bracelet and how our Christian lives have a story to tell that the salvation bracelet helps us to not only understand our Christianity, but our personal relationship with Jesus Christ. Our first stop on this journey is the 'black bead'. So, let's embark on our journey as we hear our conductor saying, "All aboard."
In order to clearly understand salvation history, one needs to first hear and understand why salvation is a concept that is needed to be clearly understood. And the "black bead" clearly signifies and symbolizes not a place, but an action all of us are born into. The "black bead" signifies "sin".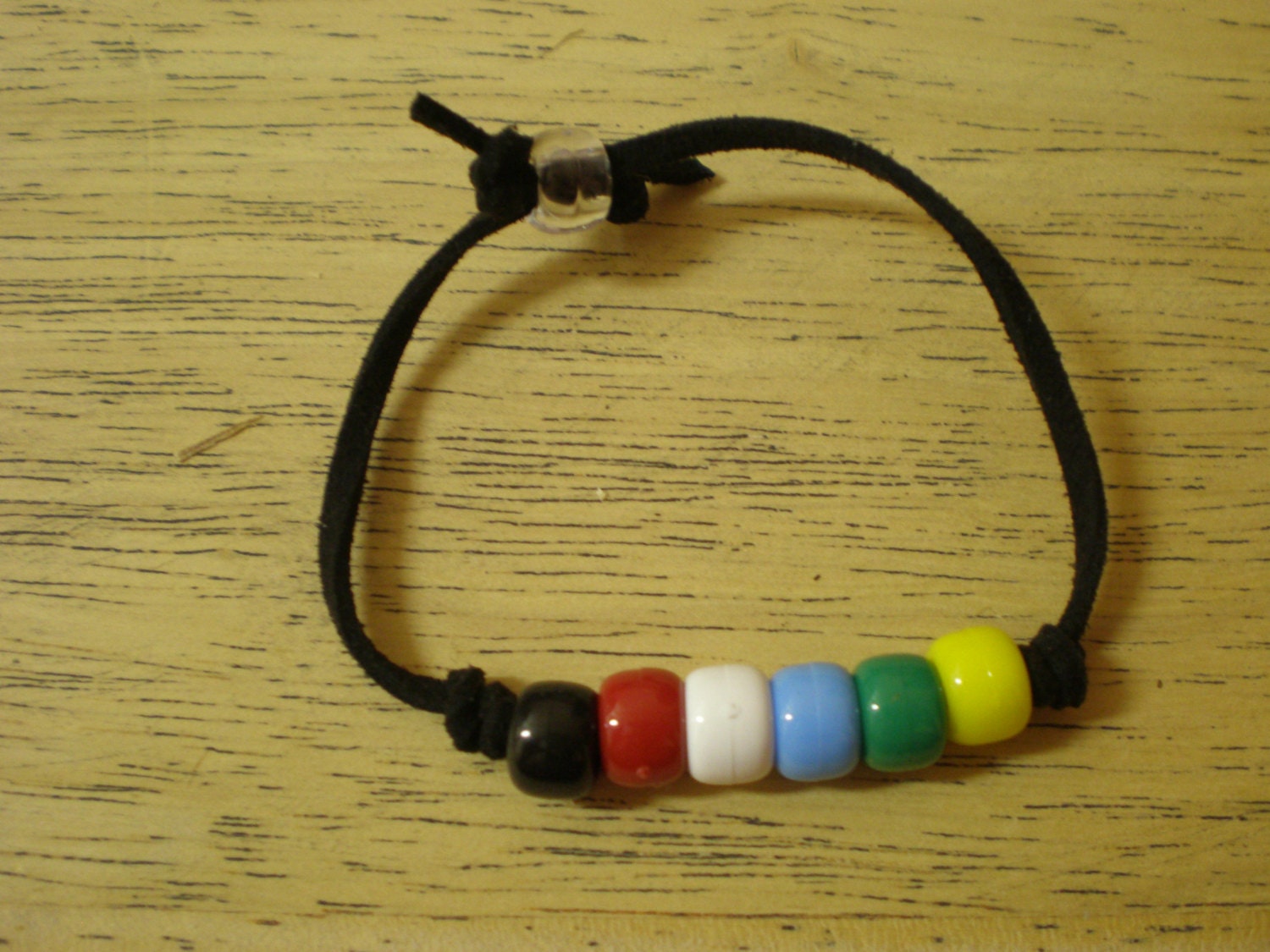 In Lutheranism 101, this week we talked about a three letter word and asked a simple question. What is in the middle of "sin"? The answer is not rocket science, simply "I" is in the middle of "sin". Just as Adam and Eve were wooed by the Devil in the Garden of Eden and put themselves first, they fulfilled what Paul says this "black bead" signifies. Paul wrote in Romans 3 (3:23), "for all have sinned and fall short of the glory of God". It was not just one or two people that fell short of the glory of God, but "all have sinned". Each and every one of us gathered here tonight boarded the 'sin express'. We are all guilty of putting ourselves first and daily each and every one of us "fall short of the glory of God". It is not a choice, but in our very nature of who we are.
Just as we will in a few minutes receive the sign of the cross on our foreheads reminding us that 'we are dust, and to dust we shall return'. The salvation bracelet puts the reality of our sin squarely first. This is not to 'beat us up', 'put us down', 'make us feel bad' or 'make us feel angry', but putting sin first is to get the worst idea and event of human and biblical history out of the way on our journey. For our journey does not end at sin. Just as Christians we believe that our journey does not end at the grave, our journey we embark upon tonight is just beginning. For even though we sin, God sent Jesus Christ to overcome sin and be the ultimate sacrifice for all of mankind and for the sin of the entire world.
Jesus Christ came in order that we might be set free from our sin. Jesus Christ came to take our sin upon Himself. For Jesus Christ was clearly unlike what Paul wrote in Romans. Jesus Christ became and took upon Himself our sin in order to set us free. Jesus Christ came in order that we might be set free from the devil, our sin and even death to be with Him in His Kingdom. This is what Jesus Christ did for each and every one of us.
Yes, in a few minutes we will be marked with a black cross from the ash made from the burnt palms of last year's Palm Sunday. But our sin that we are reminded of with the ashen Cross and the black bead on the salvation bracelet is only a reminder of what our Savior Jesus Christ came to earth to overcome. Jesus Christ came to not 'fall short of the glory of God', but to be the glory of God for each and every one of us on the Cross He was nailed to on Calvary. Jesus Christ came to overcome what the ashen Cross and 'black bead' symbolizes and remove the spot of sin from our lives. Jesus Christ came to remove our sin from each of us and replace it with the garment of salvation of Jesus Christ innocence for all of mankind. And this includes each and every one of us gathered here at Emmanuel.
Tonight, as we gather to receive the Ashen Cross, we begin this journey of discovery of what the salvation bracelet means for each of us through Jesus Christ sacrifice for each and every one of us. For God's sacrifice of His Son Jesus Christ removed the 'black bead' that symbolizes sin from our lives in order for all of us to be with Him for all eternity. Thanks be to God for the Gift of Grace of His Son and our Savior, Jesus Christ that we come to honor and receive with an Ashen Cross this Ash Wednesday night. AMEN.
Check out
Pastor on the Prairie (ProtP)
Subscribe to ProtP